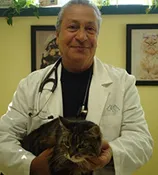 Dr. A. Bascharon received his veterinary degree in 1967. He has been practicing medicine for over 40 years and is a licensed veterinarian in over 10 states. As the leader of our team he continuously consults and mentors all the doctors and staff to deliver the very best service and veterinary care with compassion, high standards and hospitality.
As director, he welcomes the clients and patients as if they were guests in his own home. He is committed to adhere to the highest standards of pet care and client hospitality. In doing so, he has accepted the challenge from the American Animal Hospital Association (AAHA) to be evaluated on approximately 900 quality standards that encompass all aspects of veterinary care every three years. Both Oak Park Animal Hospital and Ambassador Animal Hospital proudly have been accredited through AAHA for over 30 years. This accreditation is only given to less than 15% of companion animal veterinary practices in North America.
He enjoys the outdoors and spending time near the water. He has had many animals over the years, cats, dogs, birds, tortoises, turtles and even monkeys, his favorite! His love for animals, the veterinary profession and his clients has proved evident over his career.
"An ounce of prevention is worth a pound of cure." ~Benjamin Franklin